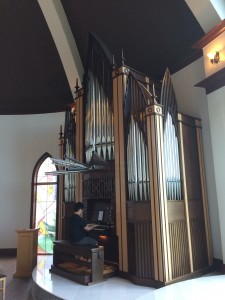 So I had my first wedding at the Lotte Wedding Chapel last week. The pipe organ has been there for several years already. It was built in Germany, then disassembled and then reassembled here with the same people from Germany. So…I imagine it cost a pretty penny.
When it was actually time to play it in front people though, It was pretty nerve wracking! I have never played on a pipe organ before, and it is LOUD! Knowing this, I practiced for 2 hours the day before the wedding, and then for 30 minutes right before the wedding. Luckily, I only have to use the foot pedals during the beginning and ending wedding marches, but it is still really hard for someone who doesn't know what they're doing.
Anyway, the wedding went really well, even under lots of pressure. I was so relieved afterwards, but it was worth it, because it was so much fun. I'm looking forward to doing more weddings there!