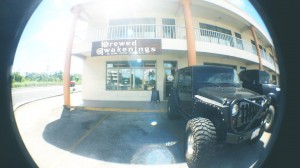 A new coffee shop has opened up near my house! My fiancee, Sabrina, saw it and suggested we go there, so here we are this morning. The inside actually has a really nice ambiance, despite the building looking a little bit old.
Short side story:
Sabrina: Let's try out Brewed Awakenings!
Doug: (didn't hear the 'B') … that's not a very nice name for a coffee shop
Sabrina: Nonono BBBBBrewed Awakenings!
Doug: Ohhh….damn that's clever!
Sabrina: Duhhhh dumbass!
Doug: -_-
Anywayyy… The best part about it though is that Sabrina ordered her usual (double shot white mocha with soy), and she thought it was made very well. This is coming from one of the best former baristas from Infusion. I ordered a hot chai and was really impressed with the quality of their drinks too.
All it needs is a kitchen, and I don't see any reason why this won't become one of the places I frequent :) Like them on Facebook here: https://www.facebook.com/pages/Brewed-Awakenings/1612854462275430?ref=br_tf
P. S. There was an acoustic guitar in the corner too, so it looks like they'll be hosting some small kine music events here sometime.